Human Rights Forum Bangladesh (HRFB)
Human Rights Forum Bangladesh (HRFB) is a coalition of 20 human rights and development organisations working for the promotion and protection of human rights in the country. Started in 2007, the Forum was initially titled Human Rights Forum on Universal Periodic Review (HR-UPR Forum) since its main objective was to collectively prepare the Stakeholders Report to submit under the Universal Periodic Review process of the UN Human Rights Council. Later in 2012, the Forum has been transformed into Human Rights Forum Bangladesh (HRFB), expanding its remit to more comprehensive range of human rights issues going beyond the task of reporting under UN human rights mechanisms. Ain o Salish Kendra (ASK) is the secretariat of the Forum.​
Arrest of the Migrant workers: HRFB's Condemnation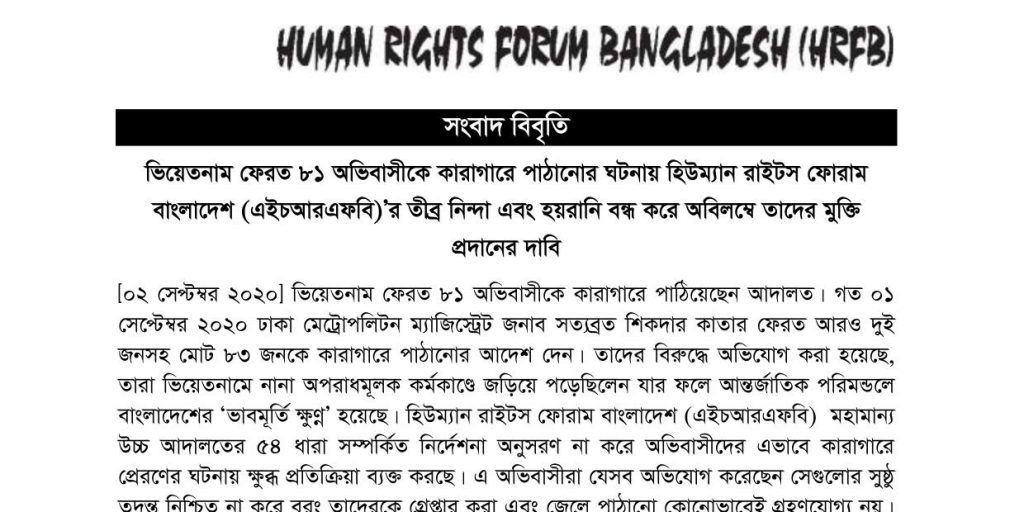 Police Baton-charge Human Chain Demonstrators Demanding Release of Sifat: HRFB Strongly Condemns and Demands Punishment of Perpetrators
HRFB Demands the Formation of Judicial Commission to Ensure Justice
HRFB demands the full implementation of the concluding observations of UN Committee Against Torture​
"Political will and top level commitment of the government will play a vital role in ensuring fair investigation and exemplary punishment against perpetrators of torture, abduction, custodial death, and in ensuring the protection of human rights defenders civil society activists journalists and media workers" said human rights lawyer Zahirul Islam Khan, Advocate Supreme Court of Bangladesh and … Read more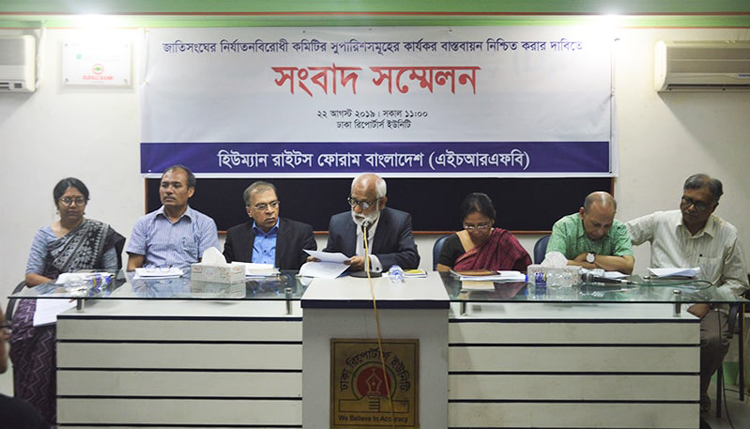 Engagement with UN Human Rights Mechanism
Universal Periodic Review (UPR)
National Seminar on One year after UPR 2018: Where are we?
"If considerable space is not created to flourish healthy political practices, evil and crooked political agents will fill in the gaps. High level of political will and commitment is required for the implementation of UPR recommendations." This was shared by Zahirul Islam Khan Panna, Senior Advocate, Supreme Court Bangladesh, and Chairperson, Ain o Salish Kendra (ASK), .. Read more
Development of one-year Progress Report on UPR 2018 Commitments
Human rights situation of Bangladesh was reviewed by the the United Nations Human Rights Council in its 30th session under the Universal Periodic Review on 14 May 2018 for the third time. In this UPR cycle, 105 countries made 251 recommendations, out of which Bangladesh Government has accepted 178 and noted 73 recommendations… Read more 
HRFB demands the full implementation of the concluding observations of UN Committee against Torture
Workshop Held on Reviewing Implementation of CAT in Bangladesh
Press release issued after CESCR Session
National Consultation on Alternative Reporting Under ICESCR
Statement on behalf of Ain o Salish Kendra (ASK) and Human Rights Forum Bangladesh (HRFB)