Implementation of Bangladesh's International Human Rights Obligations
December 9, 2018
With the aim of highlighting Bangladesh's international human rights obligations under treaty bodies, UPR, UN Special Procedures and voluntary pledges, Human Rights Forum Bangladesh (HRFB) organized a round-table discussion on 9 December at the Daily Star Centre on the eve of Human Rights Day, 2018. The discussion primarily focused on Bangladesh's implementation status of its obligations, while emphasizing the adoption of a comprehensive National Plan of Action to implement all the recommendations received from international bodies.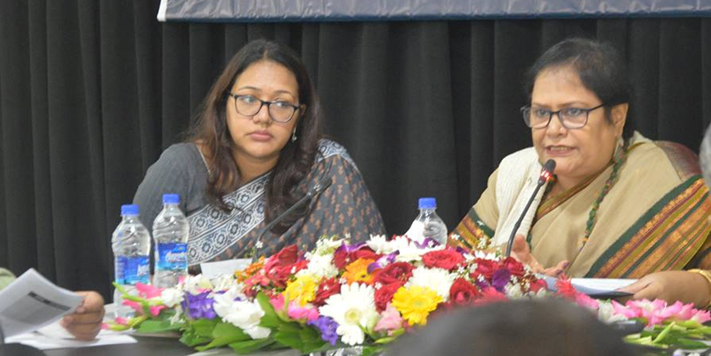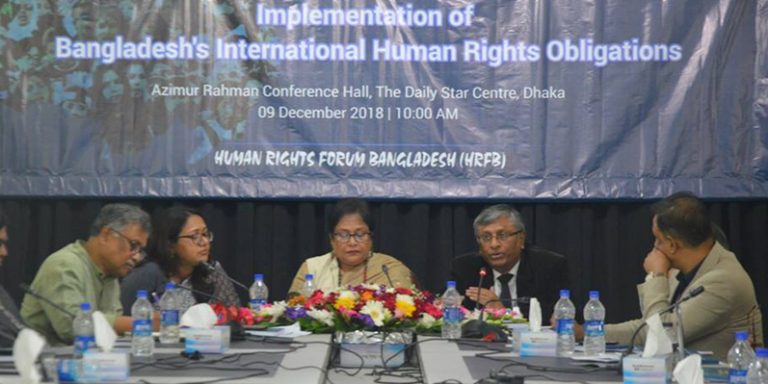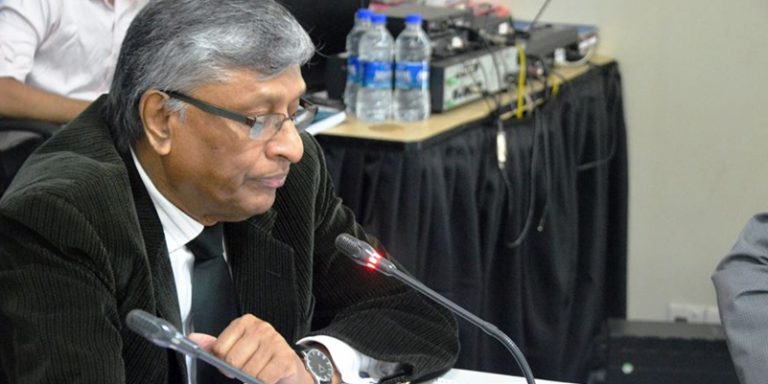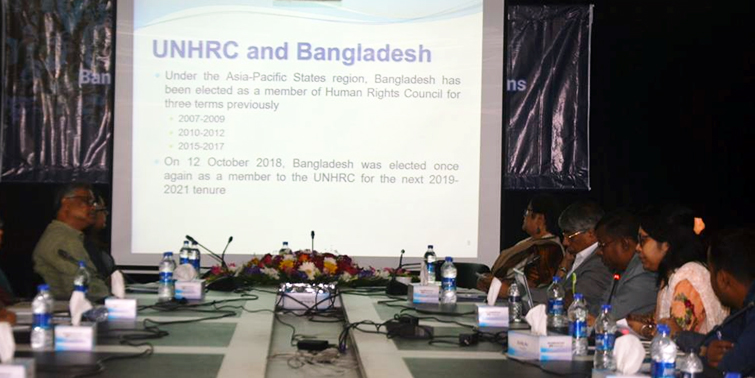 On behalf of HRFB, Tamanna Hoq Riti, gave an overall presentation highlighting the obligations Bangladesh has under the International Human Rights. She also mentioned the major recommendations that were made for Bangladesh during the UPR. Moreover, she also raised HRFB's few demands for further discussion, which included, forming a comprehensive National Action Plan, establishing mechanism to monition the implementation status, submission of periodic reports, etc.
Zakir Hossain, Steering Committee Member, HRFB, and Chief Executive, Nagorik Uddyog, shared with the participants the 18-points demands made by HRFB to the political parties, urging the government to adopt a "zero tolerance" policy in case of extrajudicial killing, enforced disappearance and death in custody. He believes that the political promises for the fulfillment of the recommendations, are a prerequisite for human rights protection, and thus, it needs to be in the political commitment for the upcoming election.
Following the demands, the publication, titled 'UPR Bangladesh 2018' was launched at the event.
Present in the discussion was Mosammat Shahanara Monica, Director, UN Wing, Ministry of Foreign Affairs (MoFA) as the Special Guest of the event. She said, "We are approaching towards an inclusive society. Our culture towards human rights has developed over time and it needs to be appreciated." She suggested that more advocacy of human rights should be done with the implementing body of the government for achieving better outcome. While mentioning the optimistic outcome of the Migrant Workers Convention (CMW), she also emphasized that there should be more focus on the Convention on the Rights of Persons with Disabilities (CRPD).
Kazi Reazul Haque, Chairperson, National Human Rights Commission, Bangladesh, attended the discussion as the Chief Guest of the event. He highlighted that fact that it was altogether the 70th anniversary of UDHR, 25 years of Paris Principles and 10 years journey of the National Human Rights Commission. He also highlighted how the culture of submitting report to the international bodies has developed positively so far. He also shared his intention of proposing a separate line during the polling of votes for the people of third gender.
The discussion was moderated by Sheepa Hafiza, Convenor, HRFB and Executive Director, Ain o Salish Kendra (ASK). During the closing remarks, she stressed that the backward section people should come forward to speak for their rights first and everyone should thus collectively put their efforts in as well. She ended her speech mentioning about the rising number of extrajudicial killings in the country and beseeched and prayed for an end to the concern.