UPR Submission by Human Rights Forum Bangladesh (HRFB)
  —October 30, 2017
Human rights situation of Bangladesh is going to be reviewed in May 2018 by the UN Human Rights Council (UNHRC) under the Universal Periodic Review (UPR).
Human Rights Forum, Bangladesh (HRFB), a coalition of 20 human rights and development organizations working for the promotion and protection of human rights in Bangladesh has submitted UPR stakeholders' report under third cycle of UPR on 05 October 2017 like its two previous cycle i.e. 2009 and 2013.
Founded in 2007, as the Human Rights Forum on Universal Periodic Review, its main objective was preparing the stakeholders' report to be submitted under the UPR process of the UN Human Rights Council. The forum's name was changed in 2012 to HRFB to reflect its work on all HR issues and to more effectively follow up on the government's national and international commitments.
Bangladesh was first reviewed under the Universal Periodic Review (UPR) in February 2009 and again in 2013, when the state agreed to take steps in response to several recommendations made in the 2nd cycle of UPR.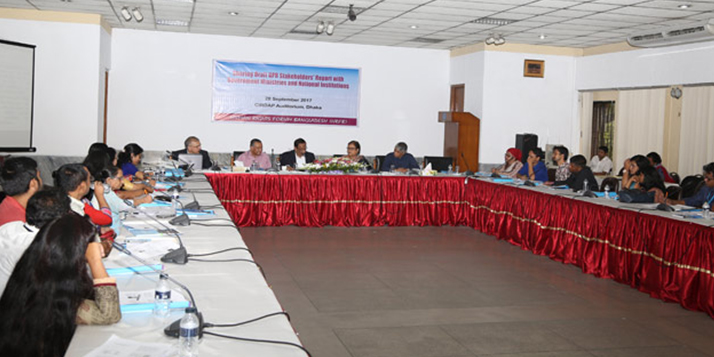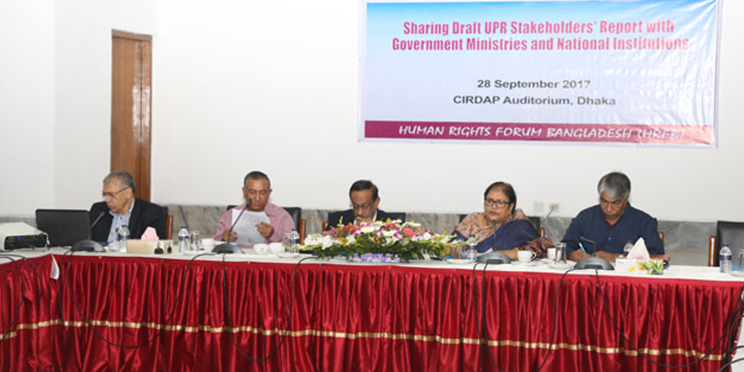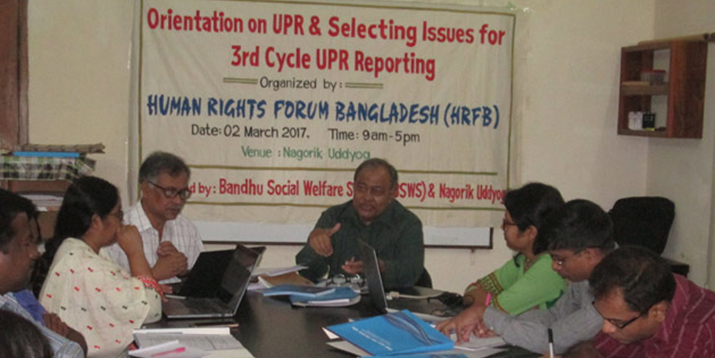 The report discusses serious concerns in terms of civil and political rights, particularly regarding life and liberty, freedom of association, assembly and expression, independence of key institutions, and the rights of particular minority/vulnerable groups. It also compares the outputs of the government in relation to commitments made at the 2nd cycle of UPR, 2013. The current report reflects the human rights situation in Bangladesh between 2013 and 2017.
In March 2017, HRFB held a consultation meeting, where member organizations identified a total of 70 issues of concern. The issues were distributed among the members to draft thematic reports based on their expertise and area of works. The main report is a compilation of those thematic reports. HRFB also arranged five consultations (Barisal, Chittagong, Mymensing, Jessore, Kushtia) at divisional level to incorporate concerns and recommendations of various stakeholders. After incorporating those feedback, a national consultation with relevant government ministries and national institutions were also held.