UPR Pre-Session
May 4, 2018 
UPR Pre-session on Bangladesh
12 April 2018
As the Convener of Human Rights Forum Bangladesh (HRFB), ASK's Executive Director, Sheepa Hafiza, attended the UPR Pre-session on Bangladesh, and did a presentation on the implementation of previous commitments of Bangladesh Government of Bangladesh under UPR on 12 April 2018 in Geneva, Switzerland.
United Nations Human Rights Council will review the human rights situation in Bangladesh under the Universal Periodic Review (UPR) process in its 30th UPR Working Group Session, which will be held from 07-18 May 2018. On this occasion, UPR Info, a Geneva based non-governmental organization working to promote UPR process, organized a UPR pre-session on Bangladesh on 12 April 2018 in Geneva. In the one hour session, six representatives from Bangladesh had the opportunity to deliver statements on specific issues. They are-
National Human Rights Commission, Bangladesh (NHRC,B): Kazi Reazul Hoque, Chair.
Steps towards Development: Ranjan Karmaker, Executive Director- Women's Human Rights.
Coalition of Indigenous Peoples Organizations on UPR: Bablu Chakma-different areas of rights of indigenous peoples in Bangladesh including recent developments in the legal and policy frameworks, right to identity, rights over land and natural resources, rights of women and girls, economic social and cultural rights, business and human rights, civil and political rights and state of implementation of the CHT Accord.
Human Rights Forum Bangladesh (HRFB): Sheepa Hafiza, Executive Director, Ain o Salish Kendra (ASK) and Convener, Human Rights Forum Bangladesh (HRFB) –Economic, Social and Cultural Rights, as well as Civil and Political Rights (CPR).
Child Rights Advocacy Coalition in Bangladesh: Rasheda Akter, Child Rights Unit, Ain o Salish Kendra (ASK).
Article 19: Tahmina Rahman, Regional Director, Bangladesh and South Asia-Freedom of expression (including online), safe environment for media, human rights defenders and civil society, freedom of belief and the protection of minorities.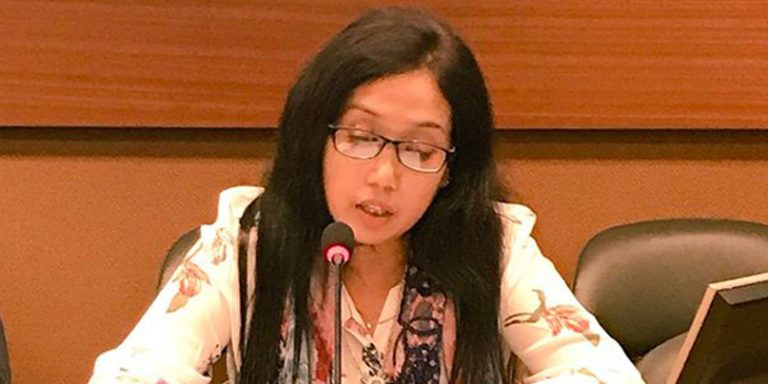 Sheepa Hafiza and Ranjan Karmaker went to Geneva on 08 April and did lobby meetings with different missions such as – United States of America, Finland, Switzerland, Austria, Australia, Czech Republic, Japan, Germany, and Norway. They also had meetings with international organizations like Forum-Asia, World Organization Against Torture (OMCT) etc. The missions were interested to know the update of their previous recommendations. Besides, issues like human rights violations by security forces, status of freedom of expression, Rohingya refugee crisis, rights of the minorities, violence against women and children, discriminatory laws, enactment of anti-discriminatory act, etc. were also discussed during the meetings.  Some major recommendations placed by the Forum representatives for the Third cycle were-
Make time-bound commitments to reform relevant laws to address Enforced Disappearance (EDs),
Establish an independent commission to ensure transparent and accountable investigation of all alleged HRVs by state agencies, and justice established.
Ensure enforcement of the Torture and Custodial Death (Deterrent) Act, 2013 and refrain from any regressive amendment to the Act, and also enforce the Supreme Court Guidelines.
Strengthen watchdog institutions (NHRC, ACC and IC), bring necessary changes in their founding acts that they can operate independently, and;
Ensure protection of land rights, prosecution and punishment of land grabbers and speedy disposal of Vested Property return cases especially of religious minorities and Indigenous Peoples (IPs)
Enact an integrated education law immediately ensuring quality education and extending compulsory primary education to at least 13 years of age.
Review the minimum wage structure to make it consistent with cost of living and move to provide "living wage" in all sectors
Establish a separate commission for the Plains IPs,
Strict and effective measures to end the culture of impunity and to stop attacks on IPs, ethnic and religious minorities, acknowledge the existence of sexual and gender minorities,
Ratify the 1951 Refugee Convention and increase multilateral diplomatic efforts through regional and international forums to ensure safe, dignified and speedy return of all Rohingyas to Myanmar.
Additionally, Rasheda Akter attended the Pre-session and made presentation on the child rights situation in Bangladesh on behalf of Child Rights Advocacy Coalition in Bangladesh. She also did lobby meetings with the representatives of Slovakia, Slovenia, Portugal, Finland, USA, Norway, Denmark and Netherlands, and shared the Coalition's concerns and recommendations to improve the child rights situation in Bangladesh. Representatives of the Permanent Missions raised their concerns over violence against children, corporal punishment, child marriage, child labor and establishment of National Child Rights Commission in Bangladesh. The Coalition focused on the following recommendations-
Fast-track all cases of child killing, torture and rape
Enact a new law banning corporal punishment in all settings.
Immediately establish an independent National Commission on the Rights of the Child.
Urgently finalize the rules of procedures for Child Marriage Restraint Act 2017.